Virtual CAREC Senior Officials' Meeting and Sector Consultations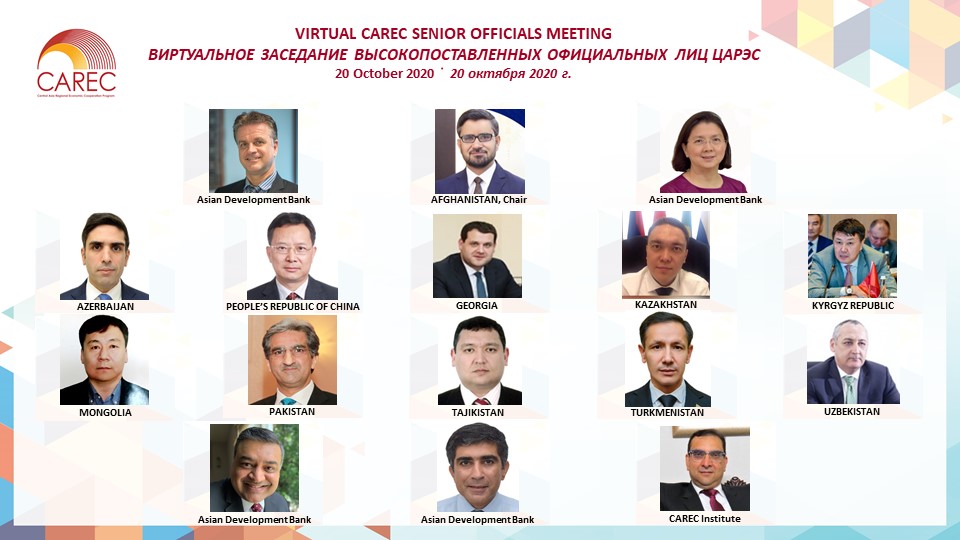 Senior officials from 11 CAREC countries discussed overall implementation progress of the CAREC 2030 Strategy, as well as the draft CAREC Program Results Framework, Tourism Strategy 2030, and Gender Strategy 2030. Separate consultation meetings reviewed activities in transport and energy sectors.
Afghanistan Deputy Minister for Finance and CAREC National Focal Point Habib Zadran chaired the meeting, with Asian Development Bank (ADB) Central and West Asia Department (CWRD) Director General Werner Liepach and ADB East Asia Department (EARD) Deputy Director General M. Teresa Kho as co-chairs.
19 October: Sector Consultation Meetings
Key Documents
Agenda – Energy Sector Consultation | РУССКИЙ
Agenda – Transport Sector Consultation | РУССКИЙ
Participants – Transport Sector Consultation
Proposed New ESCC Working Group Structure | РУССКИЙ
Proposed Workplan 2020 CAREC Energy | РУССКИЙ
Presentations
CAREC Energy Strategy 2030 and ESCC Work Program 2020-2022 | РУССКИЙ
Renewable Energy Cooperation in Central Asia | РУССКИЙ
CAREC Transport Sector: Workplan and Progress in 2020-2021 | РУССКИЙ
20 October:  CAREC Senior Officials' Meeting
Key Documents
Summary of Proceedings | РУССКИЙ
CAREC Implementation Progress Report (June 2019–October 2020) | РУССКИЙ
Toward CAREC 2030: Enhancing Regional Cooperation in the Health Sector | РУССКИЙ
CAREC 2030 Program Results Framework | РУССКИЙ
CAREC Transport Sector Progress Report and Work Plan (July 2019–August 2020) | РУССКИЙ
CAREC Trade Sector Report and Work Plan (September 2019–September 2020) | РУССКИЙ
CAREC Energy Sector Progress Report (June 2019–October 2020) | РУССКИЙ
CAREC Institute Progress Report | РУССКИЙ
Scoping Study on Strengthening Cross-Border Communities' Collaboration under CAREC 2030 | РУССКИЙ
Presentations
Session 1.1: Implementation Progress Report (June 2019–October 2020) | РУССКИЙ
Session 1.2: Promoting Regional Health Cooperation in CAREC—A Scoping Study | РУССКИЙ
Session 1.3: CAREC 2030 Program Results Framework | РУССКИЙ
Session 2: CAREC Tourism Strategy 2030 | РУССКИЙ
Session 3: CAREC Gender Strategy 2030 | РУССКИЙ
Session 4: CAREC Institute and Progress Update | РУССКИЙ
Session 5: 19th CAREC Ministerial Conference Proposed Theme and Agenda | РУССКИЙ