Trade is critical to regional integration. The capacity for countries in a region to move or exchange products, services, and resources—skills, capital, technology, information—leads not only to a wider variety of choices but also to their more efficient use. In CAREC countries, it is also a means of achieving the sustainable development goals.
Following several rounds of stakeholder consultations, CAREC member countries adopted a new trade strategy that takes a more synergistic approach to trade issues, encompassing market access, economic diversification, and institutions for trade. The new strategy leverages on the successes of past CAREC work that have reinforced trust and collective effort for mutual benefit.
CAREC Integrated Trade Agenda 2030
The trade strategy is embodied in the CAREC Integrated Trade Agenda (CITA) 2030, which aims at assisting CAREC members integrate better into the global economy, ultimately enhancing their growth potential and improving the living standards of people in the region. CITA 2030 comprises three pillars:
Pillar 1: Trade Expansion from Increased Market Access
CITA will promote more open trade policies and stronger customs cooperation. This includes measures to lower tariffs, eliminate non-tariff barriers to trade, make at-the-border and behind-the-border procedures more efficient, improve logistics services, enhance transit systems, and limit trade-distorting and protectionist measures.
Pillar 2: Greater Diversification
CITA will create an enabling environment for economic diversification through supportive reforms, the availability of finance, and links with global and regional value chains. This includes measures to improve access to trade finance, institute consistent and open foreign direct investment policies, develop domestic financial markets, strengthen support services, upgrade skills, and nurture innovation.
Pillar 3: Stronger Institutions for Trade
CITA will foster coordinated sectoral policies and priorities, evidence-based policy-making, and capable government agencies. This includes measures for collaborative policy formulation and implementation, alignment of national with regional planning, and regulatory convergence among members. CITA will improve data management and cross-country analysis, enhance the policy analysis and negotiation skills of officials, and increase think tank and private sector participation.
Related Document
Trade Sector Report and Work Plan September 2019 – September 2020 | РУССКИЙ
Trade Sector Progress Report & Work Plan June 2020 – June 2021
Institutional Structure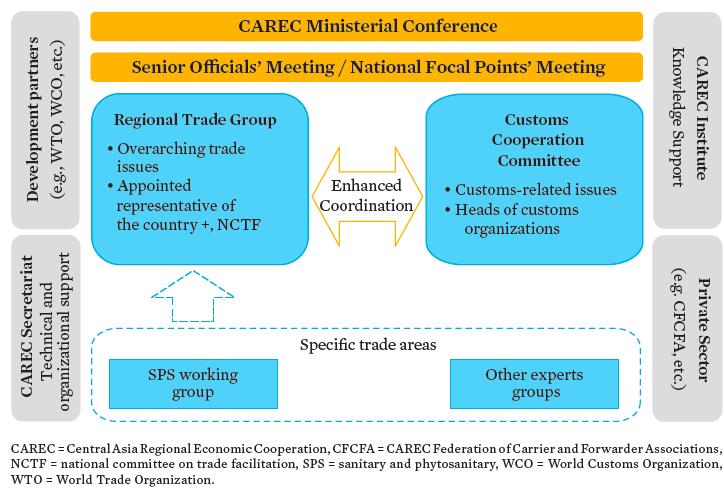 Regional Trade Group
The Regional Trade Group (RTG) is the lead consultative and coordinating body with full operational authority over CAREC work on trade as embodied in CITA 2030 and the accompanying Rolling Strategic Action Plans (RSAP). Policy and strategic direction will be provided by the Ministerial Conference, and oversight by the Senior Officials' Meeting. Members consist of all Appointed Representatives of the Country (ARCs). The RTG is in charge of policy dialogue and strategy formulation, project pipeline development, implementation and monitoring, and institutional strengthening and stakeholder coordination.
The RTG will coordinate and cooperate with the Customs Cooperation Committee (CCC), report progress, and offer recommendations to the CAREC Ministerial Conference through the Senior Officials' Meeting and National Focal Points' meeting. Ad-hoc working groups and expert groups in technical areas may be organized under it. The RTG will also coordinate with the CAREC Institute, research and policy think tanks in CAREC countries, international organizations, standard-setting bodies, development partners engaged in trade-related activities, and regional cooperation mechanisms, to share knowledge, create synergies, and optimize the use of resources. It will engage private sector associations, in particular traders, business, and industry organizations, to enhance their role in trade promotion and trade facilitation.
Sanitary and Phytosanitary Measures Regional Working Group
The Sanitary and Phytosanitary Measures (SPS) Regional Working Group (RWG) is the policy-making body for the implementation of the Common Agenda for the Modernization of SPS Measures for Trade (CAST), which was adopted during the 2015 CAREC Ministerial Conference. The RWG develops the annual SPS work program based on national plans and the RSAP, and coordinates progress and planned activities with the RTG.
Its members are the chairpersons of each country's SPS National Working Groups (NWG), which were officially established by governments to develop 5-year national SPS strategies and 3-year SPS priority action plans. The NWG also serves as a forum for the exchange of information among relevant agencies for the implementation of SPS activities under the CAST.
Related Document
CAREC Common Agenda for Modernization of SPS Measures for Trade | РУССКИЙ
Customs Cooperation Committee
The Customs Cooperation Committee (CCC) will continue to be the responsible body for all customs-related matters. Established in January 2002, the CCC is composed of the heads and deputy heads of customs organizations of the 11 CAREC member countries. The CCC aims to facilitate regional trade through concerted customs reforms and modernization, strengthened inter-agency coordination, and enhanced partnerships with the private sector in order to eliminate trade barriers to development. The CCC also serves as the regional forum for addressing issues of common interest relevant to trade facilitation, and is expected to provide the leadership in advancing trade facilitation initiatives.
The CCC has made significant achievements in regional and country-specific customs reforms and has been successful in creating an environment of cooperation among the customs services of the participating countries. Recognizing customs' evolving role in effectively implementing the CITA 2030, the CCC recently agreed on a new set of priority areas: (i) customs development, (ii) customs technology, and (iii) customs services.
CAREC Federation of Carrier and Forwarder Associations
In 2009, at the initiative of national carriers, freight forwarders and logistics associations and with CAREC support, the CAREC Federation of Carrier and Forwarder Associations (CFCFA) was established as a public-private partnership to facilitate transport, trade and logistics development in the region. CFCFA is a cooperation mechanism for national organizations to solve topical issues, and an opportunity for active participation in initiating and implementing projects for CAREC financing.
CFCFA contributes the private sector perspective to CAREC transport and trade facilitation efforts. It supports relevant government agencies in improving transport and trade facilitation policies and infrastructure. It also enhances professionalism within the road carrier and freight forwarder, as well as railway transport industries.
Corridor Performance Measurement and Monitoring
In 2014, the CAREC Transport and Trade Facilitation Strategy and its Action Plan, which focus on the development of six priority CAREC corridors, mandated that performance be measured and monitored periodically to ascertain the current situation along the links and nodes of each corridor, identify bottlenecks, and determine courses of action to address these bottlenecks.
The Corridor Performance Measurement and Monitoring (CPMM) report uses a modified version of the time/cost-distance methodology of the UNESCAP and engages freight forwarder and road carrier associations in each CAREC country to collect time and cost data on a regular basis. The methodology allows policy makers and road carriers/freight forwarders to:
analyze the factors that affect the cost and time required to transport goods using certain routes;
compare over a period of time, the changes in costs and/or time required to transport goods along a certain route;
compare and evaluate competing modes of transport operating on the same route; and
consider alternative transit routes.
The survey instruments are processed and analyzed quarterly focusing on 4 indicators: time taken to clear border crossing (in hours), costs incurred at border crossing clearance (US$), speed taken (kilometers/hour) to travel and costs incurred (US$) to travel a corridor section. An in-depth annual report is prepared for presentation to the Senior Officials' Meeting and the Ministerial Conference.
Results have indicated possibilities where time and cost may be reduced, identified border-crossing points where improvements are required, and showed the cost-effectiveness of rail over road transport for freight. CPMM also provides pertinent information on transport efficiency and bottlenecks, and are geared for use by decision-makers in policy formulation, investment decisions, and process improvements.