CAREC DIGITAL TRADE FORUM 2022: Advancing Digital Solutions and Deepening Regional Cooperation for Trade

On 8 November, CAREC members together with the private sector, development partners, and research institutions launched the CAREC Digital Trade Forum, a knowledge platform for sharing good practices, effective policies, and innovative ideas to achieve the CAREC countries' digital trade potential. Director General Yu Benlin from the Ministry of Commerce of the People's Republic of China shared new trends and technologies for transforming trade. ADB's M. Teresa Kho, Director General for East Asia Department encouraged the CAREC countries to take full advantage of digital solutions to deepen regional cooperation in pursuit of the CAREC Integrated Trade Agenda 2030, while Yevgeniy Zhukov, Director General for Central and West Asia Department shared how the CAREC Digital Strategy 2030 can accelerate digital transformation in achieving regional competitiveness, inclusive growth, and sustainable recovery for CAREC members.  
The inaugural CAREC Digital Trade Forum with the theme of "Advancing Digital Solutions and Deepening Regional Cooperation for Trade" focused on: (i) enabling legislation and policies; (ii) digital technologies for trade; and (iii) cooperation arrangements—to demonstrate how this platform can be instrumental in reviving supply chains and cross-border trade, accelerating post-pandemic recovery and rebuilding momentum for sustainable economic growth. See DTF video.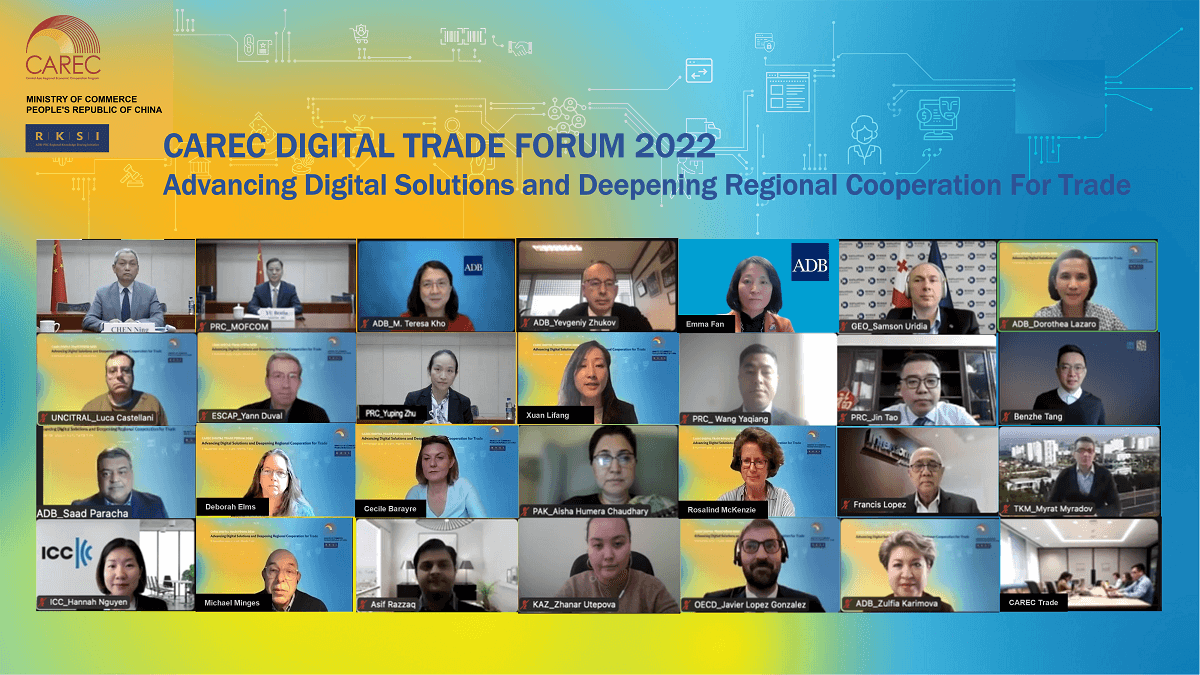 Supported under KSTA 9712: Implementing the Integrated Trade Agenda in the CAREC Program, co-funded by the Regional Cooperation and Integration Fund and the PRC Poverty Reduction and Regional Cooperation Fund (PRCF). 
Key Documents
Agenda (English, Russian, Chinese)
Session 1: Key Rules, Standards and Principles for Developing Digital Trade 
OECD Digital Trade Inventory (English, Russian, Chinese)
UNCITRAL Text on E-commerce: An Overview (English, Russian, Chinese)
Cross-Border Paperless Trade Toolkit (English, Russian, Chinese)
Session 2: New Trends and Technologies Transforming Trade 
Partnership to Establish Global Digital Trade Hub (English, Russian, Chinese)
New Development Trend of Cross-border E-commerce in the Era of Digital Economy (English, Russian, Chinese)
Exploration and Practice of Digital Silkroad (English, Russian, Chinese)
Session 3: Digital Cooperation and Innovative Arrangements in Digital Trade  
Part I: Among governments  
Using Trade Agreements to Foster Digital Trade (English, Russian, Chinese)
eTrade for all Platform and eT Readies (English, Russian, Chinese)
E-commerce Development in Kazakhstan (English, Russian, Chinese)
Part II: Between public-private entities and research institutions  
Digital Standards Initiative (DSI) – The global initiative for digital trade (English, Russian, Chinese)
Knowledge Partnership to Accelerate Digital Trade in CAREC (English, Russian, Chinese)
Middle Mile Connectivity and Sustainability (English, Russian, Chinese)