Knowledge-sharing modules on CAREC Trade: Regional Improvement of Border Services
Asian Development Bank – CAREC Institute
Knowledge-Sharing Modules on CAREC Trade: Regional Improvement of Border Services
January 2021
Highlights of Lessons Learned
Trade facilitation remains crucial to supply-chain continuity, economic competitiveness, and crossborder risk mitigation amid the pandemic.
To continue sharing knowledge in the face of pandemic-related restrictions, Asian Development Bank
(ADB) and CAREC Institute are developing three-part modules on the Regional Improvement of
Border Services (RIBS) and national single window projects. RIBS projects have been implemented
since 2013 in four countries as part of trade facilitation initiatives under the CAREC Program.
ADB's Emma Fan, Director, Public Management, Financial Sector, and Regional Cooperation Division
(EAPF), East Asia Department and Syed Shakeel Shah, Director, CAREC Institute launched the
modules.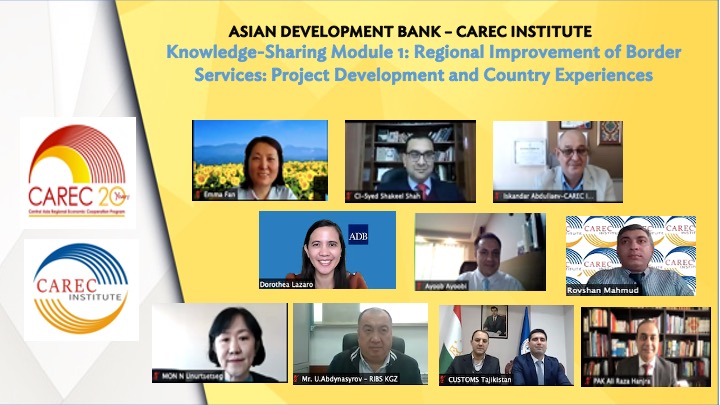 Knowledge-Sharing Module 1: Regional Improvement of Border Services: Project Development and Country Experiences
Four CAREC countries – Kyrgyz Republic, Mongolia, Pakistan, and Tajikistan – shared their RIBS
project development and implementation experiences. Project implementation experts described the
rationale and objectives, agencies and stakeholders involved, project components and status, and
future activities for ongoing RIBS projects. For Mongolia and Pakistan, the selection of border crossing
points (BCPs) was based on strategic location and route for transit, and the capacity to manage trade
volumes and pedestrian traffic. Kyrgyz Republic emphasized the importance of synchronizing the
design of RIBS projects with the country's commitments under international agreements (for example,
when it joined Eurasian Economic Union) and emerging global trends. Tajikistan highlighted the
success factors such as close coordination among implementing and executing agencies, while Mongolia underscored the importance of conducting feasibility study prior to project approval.
Country experts concurred that physical infrastructure is as challenging as the development of single
window systems. The coronavirus disease (COVID-19 pandemic) has stalled implementation for most
projects but are still on track. They underscore a greater need to work towards paperless trade and
an integrated single window. Other issues and challenges identified include: (i) limitations due to
construction conditions, (ii) domestic restrictions on infrastructure, and (iii) time management. Pakistan expert also recommended matching infrastructure on the other side of the borders to ensure
undisrupted cargo flows. Capacity building and training of all border-related agencies are also critical
to project implementation and should be incorporated into the design.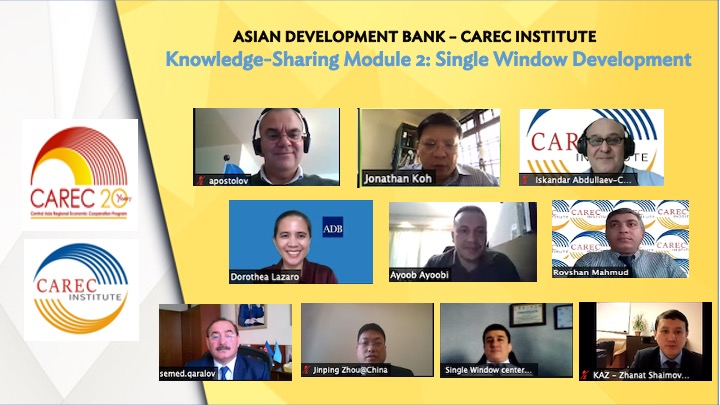 Knowledge-Sharing Module 2: Single Window Development
In this module, government officials from four CAREC countries discussed their experiences in
developing national single widow (NSW) systems— the legal, institutional and IT issues and
challenges, and lessons learned. Azerbaijan organized a commission, streamlined business
processes following international standards, developed capacity, and continue to work towards eCustoms. The People's Republic of China (PRC) followed three stages of NSW development: (i) onestop port formalities and regulations, (ii) one-stop platform for trade services, and (iii) interconnectivity with trading partners. Tajikistan's NSW was launched in 2020, and features automatic identification of user, history of traders performance, automatic conversion to national currency, and is integrated with the Tax Committee, Central Bank of Tajikistan, and Alif Sarmoya Bank. Kazakhstan's NSW is based on UNCTAD's proposal and uses the ASYCER platform that was customized to comply with local regulatory provisions.
Key factors for successful implementation include the amendment of necessary laws and regulations,
strong leadership and coordination to meet users' needs, and innovative application of the latest
technologies. Countries confirmed the importance of learning from the experience of advanced
countries and establishing an advisory body to ensure full engagement of concerned
agencies/ministries.
International experts underscored the importance of regional interfacing citing the example of the
ASEAN Single Window and Pacific Alliance and recommended the inclusion of an integrated
interagency risk management module for relevant agencies and to adopt international standards at
the national level when developing the NSW.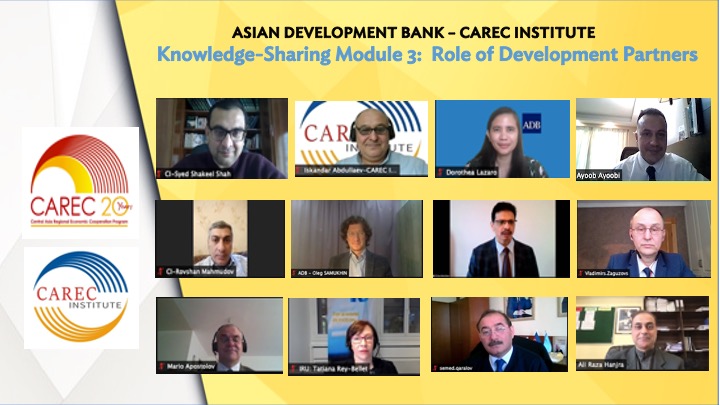 Knowledge-Sharing Module 3: Role of Development Partners
In this module, project officers and experts from international organizations discussed international
instruments and trade facilitation programs and initiatives supporting CAREC countries.
ADB conducts analytical studies, assesses infrastructure needs and provides various forms of
assistance to CAREC countries – where coordinated border management was underscored to be
crucial to modernizing customs services especially at the borders. World Bank implements customs
border management projects and emphasizes that commitment at all levels and sequencing key
reforms to catalyze other reforms are crucial. UN Economic Commission for Europe (UNECE) has
worked with CAREC countries on developing standards for digitalization of multimodal transport and
the exchange of information to allow seamless transport and supply chains particularly during COVID19 has become more relevant than ever.
The Border Management Programme in Central Asia (BOMCA-9), launched in 2003, has significant
contributions in providing training and technical expertise to CAREC countries. It is improving the
effectiveness and efficiency of border management in Central Asia by introducing advanced elements
of integrated border management, strengthening capacities of border agencies, developing risk
management and investigation capacities, and assisting sanitary and phytosanitary services. The
International Road Transport Union (IRU) works in the CAREC region through digitalization (electronic or e-TIR), exploring new routes to connect landlocked countries to ports and enable intermodal transport, and finding business models allowing stakeholders work together. The new legal framework (Annex 11 of the TIR convention) will be adopted and enable countries to be fully digital.
The modules will be available in both English and Russian languages in the CAREC Institute's ELearning Platform (https://elearning.carecinstitute.org/). As part of blended-learning approach,
CAREC officials who have taken the modules at their convenient time will be invited to join a live or
face-to-face workshops or seminars to be organized in 2021.
This activity is supported under KSTA 9824: Better Customs for Better Client Services in Central
Asia Regional Economic Cooperation Countries, co-funded by the Regional Cooperation and
Integration Fund, PRC Poverty Reduction and Regional Cooperation Fund and United Kingdom
Fund for Asia Regional Trade and Connectivity Fund under the Regional Cooperation and
Integration Financing Partnership Facility.
Key Documents
RIBS Module Series Highlights ( РУССКИЙ )
Module 1:
RIBS Mongolia Module 1 | РУССКИЙ
RIBS Pakistan Module 1 | РУССКИЙ
RIBS Tajikistan Module 1 | РУССКИЙ
RIBS Kyrgyz Republic Module 1 | РУССКИЙ
Module 2:
RIBS Azerbaijan Module 2 | РУССКИЙ
RIBS Kazakhstan Module 2 | РУССКИЙ
RIBS Tajikistan Module 2 | РУССКИЙ