CAREC Road Safety Engineering Manual 1: Road Safety Audit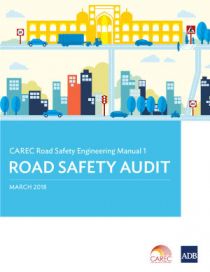 Publisher
Asian Development Bank

,

CAREC
Date Published
Mar 1, 2018
Publication Type
Briefs and notes
Overview
Research indicates that up to 28% of crashes are due to the road environment. The first and most important objective of road safety audit is to minimize the risk of crashes, and to minimize the severity of any crashes that may occur on a new road project. Road safety audit is suggested to be undertaken for all CAREC road projects. This manual provides full information for those who undertake the audits (practitioners) as well as for those who manage the audit process (policy makers).
About the CAREC Road Safety Engineering Manuals
The series of road safety engineering manuals of the CAREC Program came from the endorsement of the CAREC Road Safety Strategy 2017-2030 by member countries. The strategy supports and encourages CAREC authorities to plan, design, construct, and maintain safe roads.