CAREC Road Safety Engineering Manual 4: Pedestrian Safety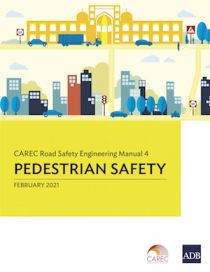 Publisher
Asian Development Bank

,

CAREC
Date Published
Feb 28, 2021
Publication Type
Briefs and notes
Overview
This manual focuses on the provision of safer pedestrian facilities in Central Asia Regional Economic Cooperation (CAREC) countries, particularly on the physical road infrastructure. It also outlines proven facilities that have been shown to assist pedestrians including those in the high-risk groups. Aimed at engineers, project managers, planners, traffic police, and other decision-makers, the manual shows how wise investment in pedestrian facilities can save lives, prevent injuries, and return major economic benefits to CAREC countries.
About the CAREC Road Safety Engineering Manuals
The series of road safety engineering manuals of the CAREC Program came from the endorsement of the CAREC Road Safety Strategy 2017-2030 by member countries. The strategy supports and encourages CAREC authorities to plan, design, construct, and maintain safe roads.