Boost climate resilience, enhance food security amid regional challenges — ADB VP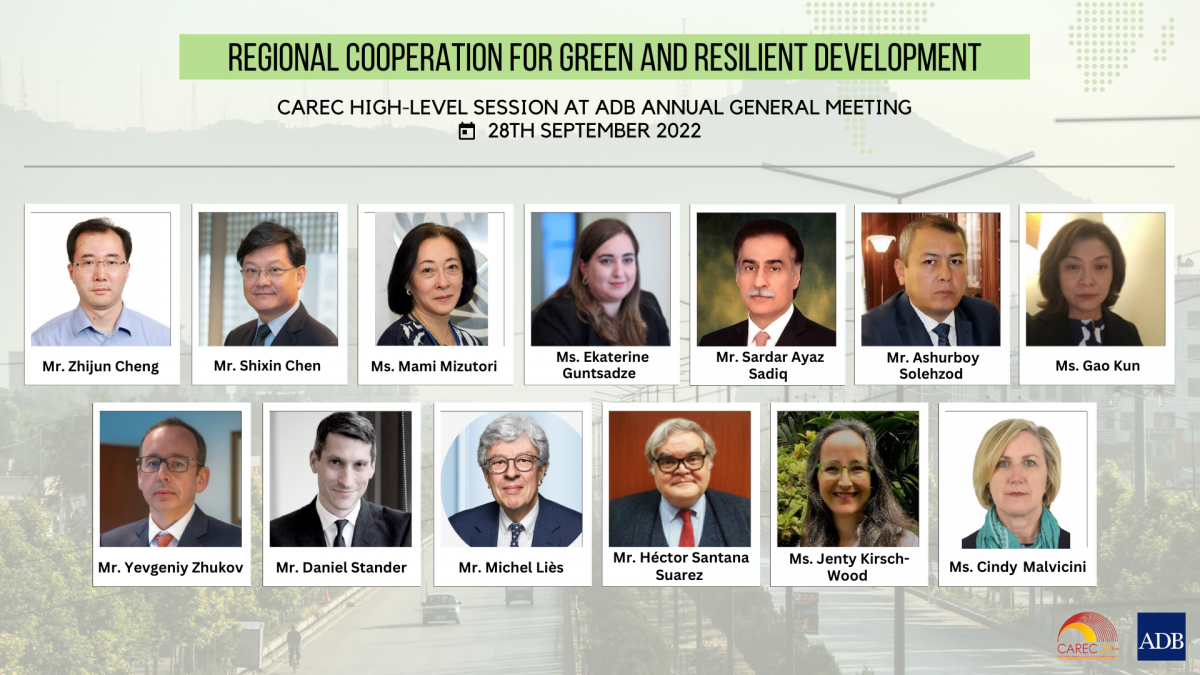 MANILA, PHILIPPINES (29 September 2022) — Central Asia and neighboring countries should integrate climate change mitigation and adaptation into their growth strategies and boost food security amid continuing regional challenges, Asian Development Bank (ADB) Vice President Shixin Chen said at ADB's 55th Annual General Meeting. 
"In the Central Asia Regional Economic Cooperation (CAREC) Program region, the agriculture sector is characterized by low productivity, limited connectivity, a lack of resilience to market volatility and is threatened by climate change," said Mr. Chen said at the high-level session of the CAREC Program. "This will continue to hinder food security. The CAREC program can help improve rural livelihoods, support agricultural commercialization, and boost the productivity, competitiveness, and resilience of the sector." 
ADB is working with its developing member countries to integrate climate change adaptation and mitigation into their country partnership strategies. ADB is also undertaking upstream climate assessments in Pakistan, Tajikistan and Uzbekistan in the agriculture and natural resources sector.  
Mr. Chen also stressed the importance of capacity development and knowledge sharing, particularly in terms of best practice around climate resilience, including natural resources management, green infrastructure, nature-based solutions, and disaster risk management.  
The CAREC Secretariat and ADB recently published a study titled Narrowing the Disaster Risk Protection Gap in Central Asia, which aims to better understand the current approach to disaster risk finance in each member country, to identify opportunities to strengthen financing arrangements. Despite facing growing levels of disaster risk, CAREC member countries have a deficit of robust risk financing. With common risks due to floods and earthquakes, regional solutions can significantly narrow the protection gap and provide quick, reliable access to finance to support immediate response and recovery efforts. 
The CAREC High-Level Session on Regional Cooperation for Green and Resilient Development, held on September 28, discussed ways to implement a risk-informed regional development program focusing on macroeconomic resilience, public health resilience, and disaster risk management. Speakers from governments, development partners, and the private sector also deliberated on innovative regional financing solutions and sustainable regional investments to address risks. 
CAREC is a partnership of 11 countries and development partners working together to promote sustainable development through cooperation. Launched in 2001, the program proactively facilitates practical, results-based regional projects and policy initiatives to accelerate economic growth and reduce poverty in the region. ADB serves as the CAREC Secretariat.