CAREC region must diversify economic links amid external shocks – ADB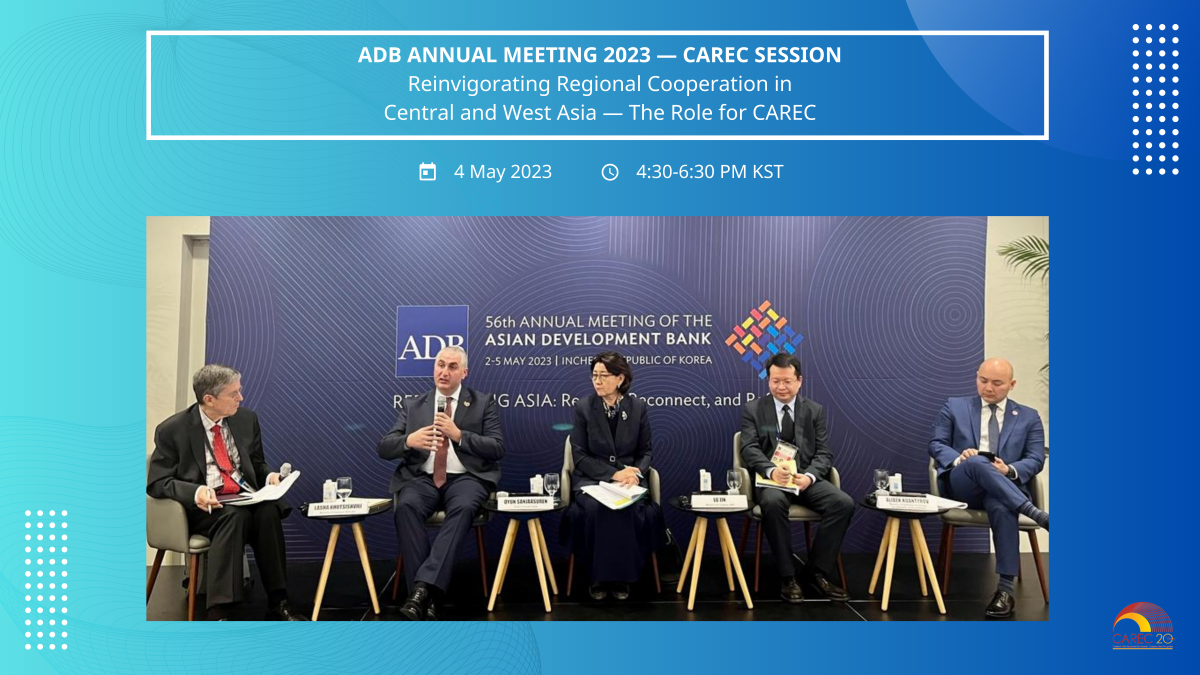 INCHEON, REPUBLIC OF KOREA – Member countries of the Central Asia Regional Economic Cooperation (CAREC) Program must diversify their economic links to build resilience amid numerous external shocks in the region, Asian Development Bank (ADB) Vice-President Shixin Chen said today.  
In his opening remarks during the CAREC session at ADB's 56th Annual Meeting, Mr. Chen said key social and economic trends in the region are becoming more difficult to predict due to several external shocks, including climate change impacts such as floods in Pakistan and droughts in Central Asia.   
"We need to understand how the dynamics of labor migration, remittances, and capital flows are changing," said Mr. Chen. "We must also explore how to reduce the region's transit vulnerability, develop alternative international corridors, diversify the export and import mix, and seek new trade partners and investment sources."  
Coordination between governments and businesses in the region is necessary to tackle these challenges, said Mr. Chen. CAREC — a partnership of countries and development partners working together to promote sustainable development through cooperation — needs to be reinvigorated to assume an even larger role in the region's social and economic development, he said.   
"Regional cooperation is essential to building resilient and sustainable economies in Central and West Asia. Whether it is maximizing individual countries' comparative advantages in trade, preventing the spread of communicable diseases, or smoothing the movement of people, these global challenges cannot be addressed without countries working together," said Mr. Chen. "This cooperation is the way to achieve our common development goals of poverty reduction, achieving gender equality, and protecting vulnerable people." 
In a presentation, ADB Director General for Central and West Asia Yevgeniy Zhukov said most CAREC economies showed relatively high growth rates in 2022, with emergence of short-term economic opportunities. But hikes in international energy and food prices, and supply chain disruptions had led to high inflation, he added.   
"Many CAREC economies, especially those in the Caucasus and Central Asia, appeared to experience spillover effects from the shocks in 2022," he remarked. "The geopolitical conflicts caused supply chain disruptions but also created short-term opportunities for the economies in the Caucasus and Central Asia. However, long-term growth fundamentals have been questioned and lingering perceptions of uncertainty could lower demand for investment."  
A panel discussion on strengthening resilience and the regional cooperation agenda in the CAREC region followed, with panel members including Georgia's Minister of Finance Mr. Lasha Khutsishvili, Kazakhstan's National Economy Minister Mr. Alibek Kuantyrov, Mr. Jin Lu from the Ministry of Finance of the People's Republic of China, and Dr. Oyun Sanjaasuren of the Green Climate Fund. They discussed the economic impacts of the recent shocks, the new role of regional cooperation, and outlined possible policy responses. The discussion was moderated by Mr. Johannes Linn from Brookings Institution.   
Launched in 2001, the CAREC Program proactively facilitates practical, results-based regional projects and policy initiatives to accelerate economic growth and reduce poverty in the region.