CAREC Integrated Trade Agenda 2030 Issues Papers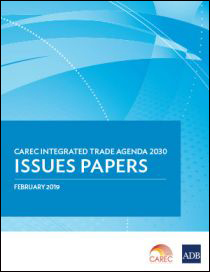 Publisher
Asian Development Bank

,

CAREC
Date Published
Feb 1, 2019
Publication Type
Working papers
Countries
Afghanistan

,

Azerbaijan

,

Georgia

,

Kazakhstan

,

Kyrgyz Republic

,

Mongolia

,

Pakistan

,

People's Republic of China

,

Regional

,

Tajikistan

,

Turkmenistan

,

Uzbekistan
This publication provides briefings on key trade issues in Central Asia: (i) addressing technical barriers to trade, (ii) expanding trade in services, (iii) engaging in regional trade agreements, and (iv) establishing special economic zones.
These issues are priorities under the CAREC Integrated Trade Agenda 2030. This set of short papers aims to support policy deliberations and implementation at the regional and national levels.
This publication is supported by TA 9712: Implementing the Integrated Trade Agenda in the Central Asia Regional Economic Cooperation Program, co-funded by the Regional Cooperation and Integration Fund and People's Republic of China Poverty Reduction and Regional Cooperation Fund.