Work closely to understand dynamics of risks to financial stability, ADB official urges stakeholders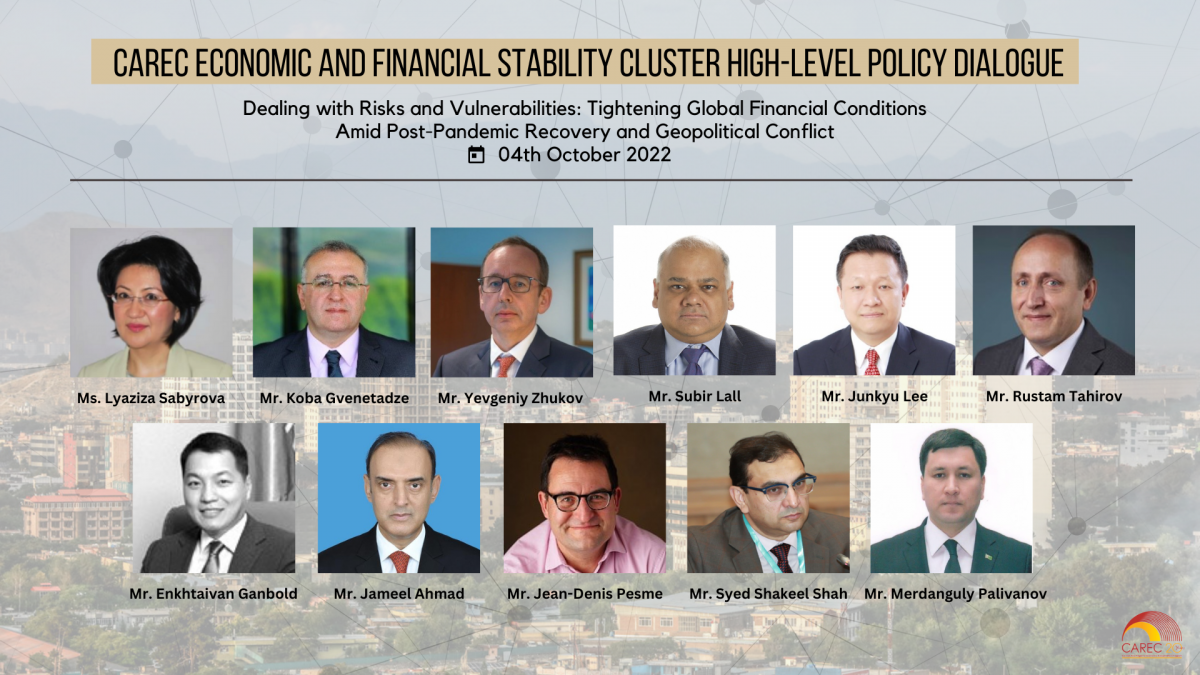 MANILA, Philippines (5 October 2022) — Governments, financial sector regulators, and the private sector in Central Asia and neighboring countries must collaborate to fully understand the dynamics surrounding the risks and vulnerabilities to financial stability in the region, ADB Director General for Central and West Asia Yevgeniy Zhukov said at a high-level policy dialogue.
"CAREC country governments have been managing the dangers posed to financial stability by strengthening their fiscal policy frameworks and adjusting monetary policy and planning to act on high inflation and debt. However, addressing the risks to the region's financial stability will be a complex task. I believe that government institutions, financial sector regulators, and the private sector must work closely together to fully understand the dynamics underlying these risks so that the CAREC members can carefully design and calibrate an effective monetary, fiscal, and financial policy response," said Mr. Zhukov at the Central Asia Regional Economic Cooperation (CAREC) Economic and Financial Stability Cluster High-Level Policy Dialogue held on October 4.
The rising inflation has led to tighter global financial conditions, negatively affecting CAREC member countries. Investors appear to be concerned about the elevated risks to the economic and inflation outlook in the region's economies affected by supply chain disruptions and other impacts of recent geopolitical conflicts. Increasing number of extreme weather events induced by climate change is also another challenge, often causing catastrophic impact to the economy and the people's lives. Furthermore, most of the Asian stock markets have underperformed, reflecting vulnerabilities and growth concerns amid COVID-related restrictions.
The virtual event, under the theme "Dealing with Risks and Vulnerabilities: Tightening Global Financial Conditions Amid Post Pandemic Recovery and Geopolitical Conflict," was attended by government officials from finance ministries, central banks, regulatory authorities, and other senior officials in the CAREC region who shared their experiences in dealing with risks and vulnerabilities to financial stability. Representatives from the ADB, International Monetary Fund, and the World Bank also shared their insights and explored policy options.
The discussion is the first event of the two-part CAREC high-level policy dialogue on economic and financial stability. The second forum will be held in the first quarter of 2023 to discuss how to improve domestic resource mobilization in the region through fiscal policy reform.
CAREC is a partnership of 11 countries and development partners working together to promote sustainable development through cooperation. Launched in 2001, the program proactively facilitates practical, results-based regional projects, and policy initiatives to accelerate economic growth and reduce poverty in the region. ADB serves as the CAREC Secretariat.