CAREC Chai 3: "Understanding the Drivers of Poverty in Afghanistan"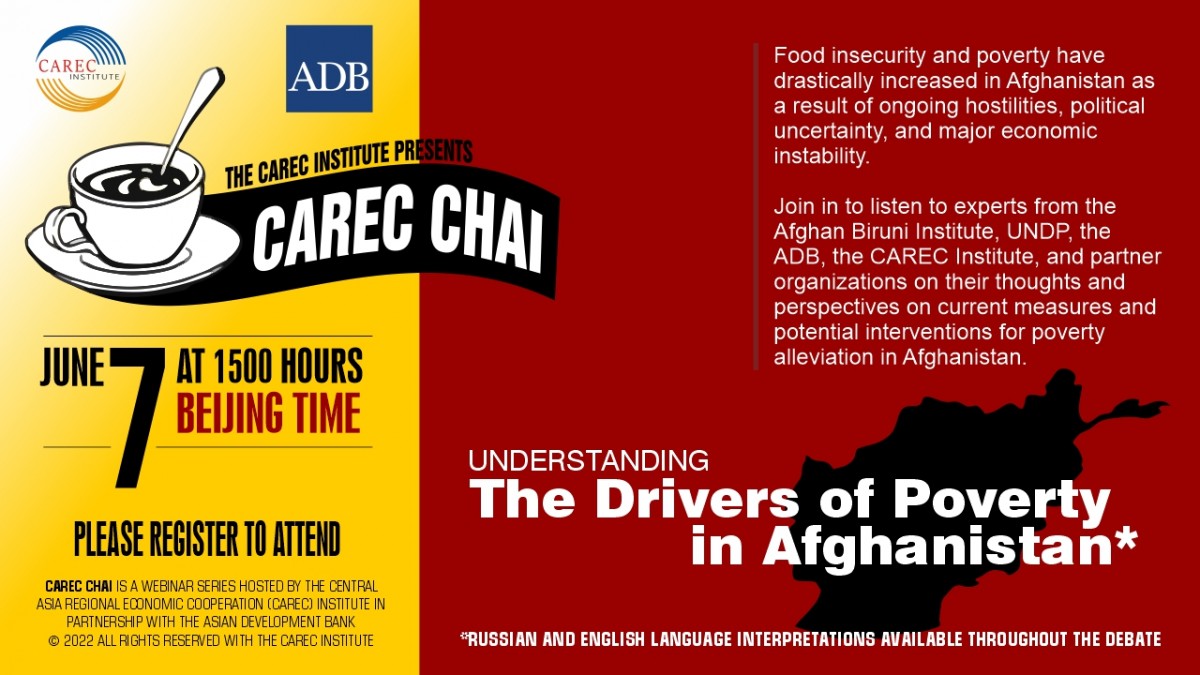 Jointly Organized by:
The Central Asia Regional Economic Cooperation (CAREC) Institute
Asian Development Bank
Click here to register for the event
The CAREC Institute, in collaboration with the Asian Development Bank, will host a third CAREC Chai event on 7 June 2022, at 15:00 Beijing time, to discuss the main drivers of poverty in Afghanistan over the last two decades and potential interventions for poverty alleviation in Afghanistan today.
Afghanistan has always been a strategically significant location throughout history, and as a transit and transport hub, it is well-positioned to link the markets of South Asia, the Middle East, Central Asia, and China.
However, the persistence of conflict in Afghanistan over the last decades has had a profound impact on its economic development and governance quality.  At present, the ongoing political uncertainty and economic instability in Afghanistan, coupled with the COVID-19 pandemic, are causing food security and poverty issues to worsen.
In this regard, experts from the Afghan Biruni Institute, UNDP, the ADB, the CAREC Institute, and partner organizations will convene to discuss the primary drivers of poverty in Afghanistan during the last two decades and share their thoughts and perspectives on current measures and potential interventions for poverty alleviation in Afghanistan.
Agenda
7th June 2022 (Beijing time)
14:50-15:00                Virtual Connection to the Webinar and Speakers' Group Photo
15:00-15:15                Opening Remarks
Syed Shakeel Shah, Director, CAREC Institute
Lyaziza Sabyrova, Director, Regional Cooperation and Operations Coordination Division (CWRC), ADB
15:15-15:20                Introduction of the Speakers by the Moderator
Eisa Khan Ayoob Ayoobi, Chief of Capacity Building Division, CAREC Institute
15:20-15:50                Keynote Presentation
                                    Understanding the Drivers of Poverty in Afghanistan
                                    Omar Joya, Executive Director, BIRUNI Institute
Saurabh Shome, Founder, Comparative Policy Design Consulting Company
15:50-16:15                Discussion Among Panelists
                                    Abdallah Al-Dardari, United Nations Development Program's Resident Representative in Kabul, Afghanistan
Artur Andrysiak, Deputy Country Director, Afghanistan Resident Mission, Central and West Asia Department, ADB
Hans Holzhacker, Chief Economist, CAREC Institute
16:15-16:25                Q&A and Discussion: moderator will pick up questions from the audience and engage in discussion with panelists
16:25-16:30                Concluding Remarks by the Moderator
Notes:
Consent to Use without Permission or Compensation
This event may be photographed, streamlined, or video recorded. By attending, accepting a connection, or continuing participation in the event, participants hereby consent to the possible use of their name, likeness, voice, spoken or written comments, or papers/presentations in whatever form in all media publications, video-sharing websites, recordings, dissemination, or other external affairs purposes for the Institute without compensation or permission.
Disclaimer for presentations
The views expressed in presentations are the views of the authors and do not necessarily reflect the views or policies of the CAREC Institute, or the governments they represent. The CAREC Institute does not guarantee the accuracy of the data included in presentations and accepts no responsibility for any consequences of their use.
Simultaneous Interpretation by Zoom will be available. Please select from the bottom panel which language for interpretation you would like, English or Russian.