10 Teams Battle it Out for Top Prize in the CAREC University Startup Challenge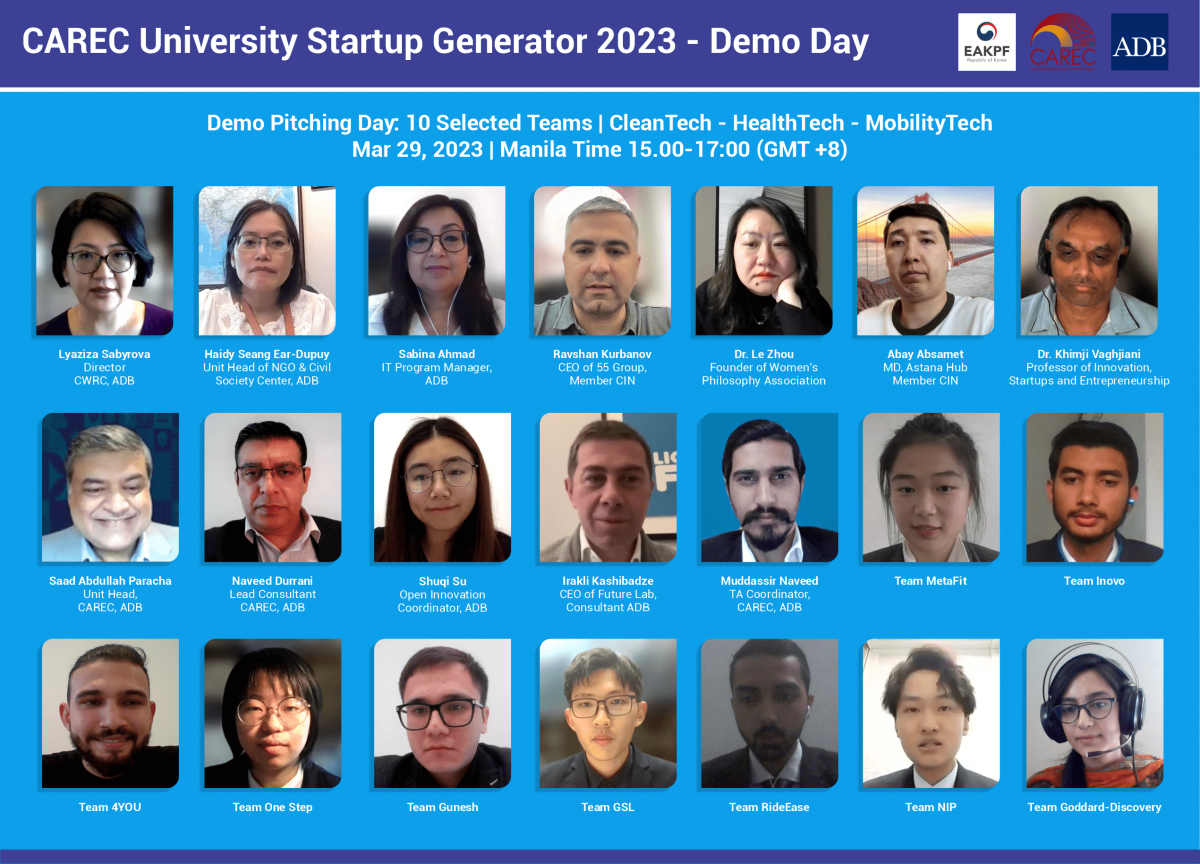 The CAREC University Startup Generator 2023 challenge program held its Pitching Day on March 29, 2023. The event marked the culmination of the eight-week long innovation challenge aimed at promoting collaboration and engagement among university students in the CAREC region for improving the overall startup ecosystem. "Universities can play in nurturing human talent to support the startup ecosystem and initiatives like the CAREC University Startup Generator can play a vital role in unlocking that potential and creating opportunities for students across the region," said Lyaziza Sabyrova, Director, Regional Cooperation and Operations Coordination Division (CWRC), ADB in her opening remarks.
The program attracted a total of 168 teams representing 580 students from 10 CAREC countries. These teams made substantial progress on research, brainstorming, and business plan development toward addressing the provided guiding questions. Out of the 168 teams, only 10 finalists were selected to move on to the final pitching day.
The teams included representatives from East China University of Political Science and Law, Northeast Agricultural University, Anhui University of China, Mingachevir State University of Azerbaijan, Baku Higher Oil School, Azerbaijan State University of Economics, Baku State University, Yagshygeldi Kakayev International Oil and Gas University of Turkmenistan, Shanghai Industry & Commerce Foreign Language College, Astana IT University, Westminster International University in Tashkent, University of Engineering and Technology in Lahore, Renmin University of China, Central University of Finance and Economics, International University of Tourism and Entrepreneurship of Tajikistan, Isra University Hyderabad in Pakistan, Istanbul Technical University, NED University of Engineering and Technology in Pakistan, Lahore College for Women University, and Sanda University of Shanghai.
During the Pitching Day, the selected 10 teams had an opportunity to present their pitches. The judges were impressed by the students' innovative solutions and dedication to entrepreneurship.
The CAREC University Startup Generator 2023 challenge program, as part of the CAREC Digital Strategy 2023, was a great success, and it promises to make a positive impact on the startup ecosystem by providing a platform for university students to showcase their innovations and collaborate for the greater good.