Virtual Regional Inception Workshop on Formulation of CAREC Health Strategy 2030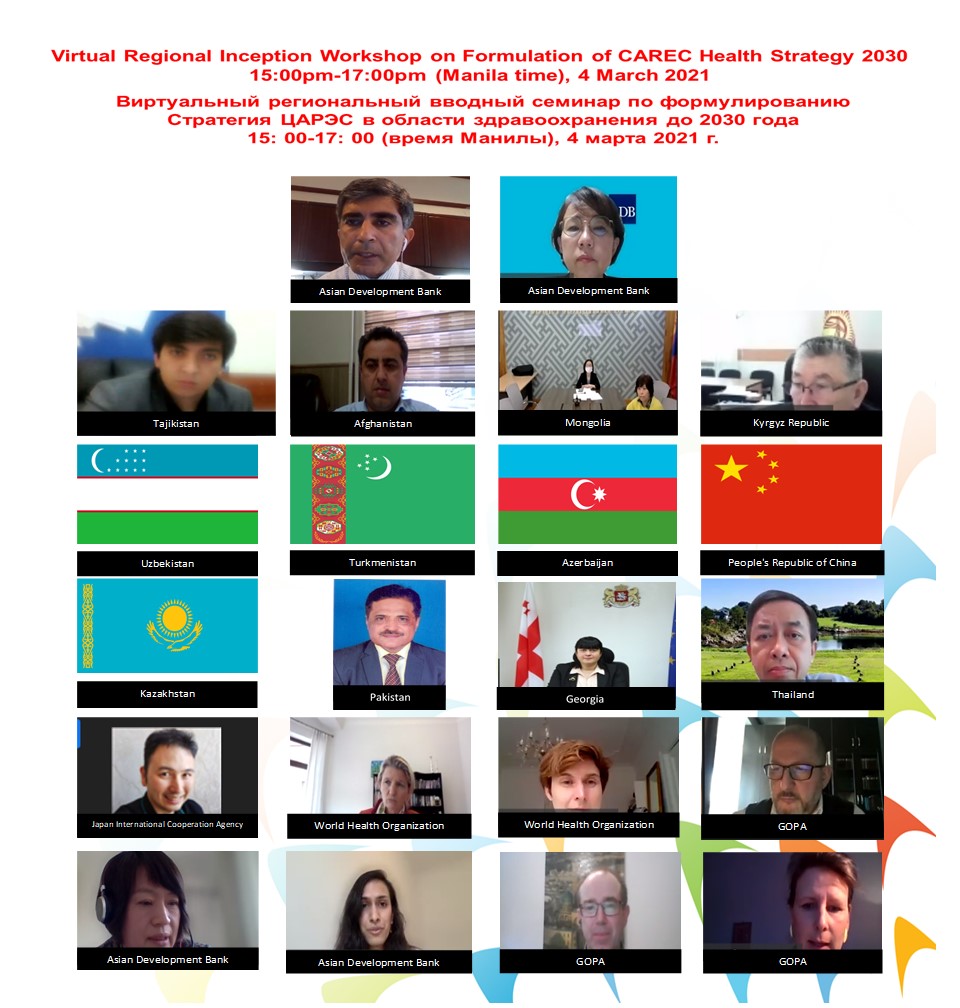 A virtual Regional Inception Workshop on the Formulation of the Central Asia Regional Economic Cooperation (CAREC) Health Strategy towards 2030 was held on 4 March 2021. Around 100 participants including health focals from CAREC countries and development partner representatives joined the first virtual CAREC health working group meeting.
The Regional Inception Workshop was an initial step to support health cooperation among CAREC countries, including to formulate a CAREC Health Strategy towards 2030, promoting a forward-looking approach in CAREC health cooperation supported through an ADB regional technical assistance (TA). Participants deliberated on priorities for the health strategy in health security, cross-border services, migrant health and health systems.
At the meeting the CAREC Working Group on Health was formally established. Dr. Phusit Prakongsai from the Ministry of Public Health in Thailand shared lessons from the GMS health cooperation. CWSS Director Rie Hiraoka delivered welcome remarks, and CWRC Director Safdar Parvez gave closing remarks. They highlighted the importance of institutionalizing CAREC health cooperation to safeguard population health across borders, jointly build resilient health systems and foster growth in the region.
Key Documents
Agenda CAREC Regional Inception Workshop (EN | RU)
BRIEF Health Systems Strengthening (EN | RU)
BRIEF Regional Health Security (EN | RU)
Regional Inception Workshop Final PPT (EN | RU)
BRIEF Cross Border Health (EN | RU)
Enhancing Regional Health Cooperation (Infographic)