20th CAREC Ministerial Conference Marks New Health, Digital Approaches to Regional Integration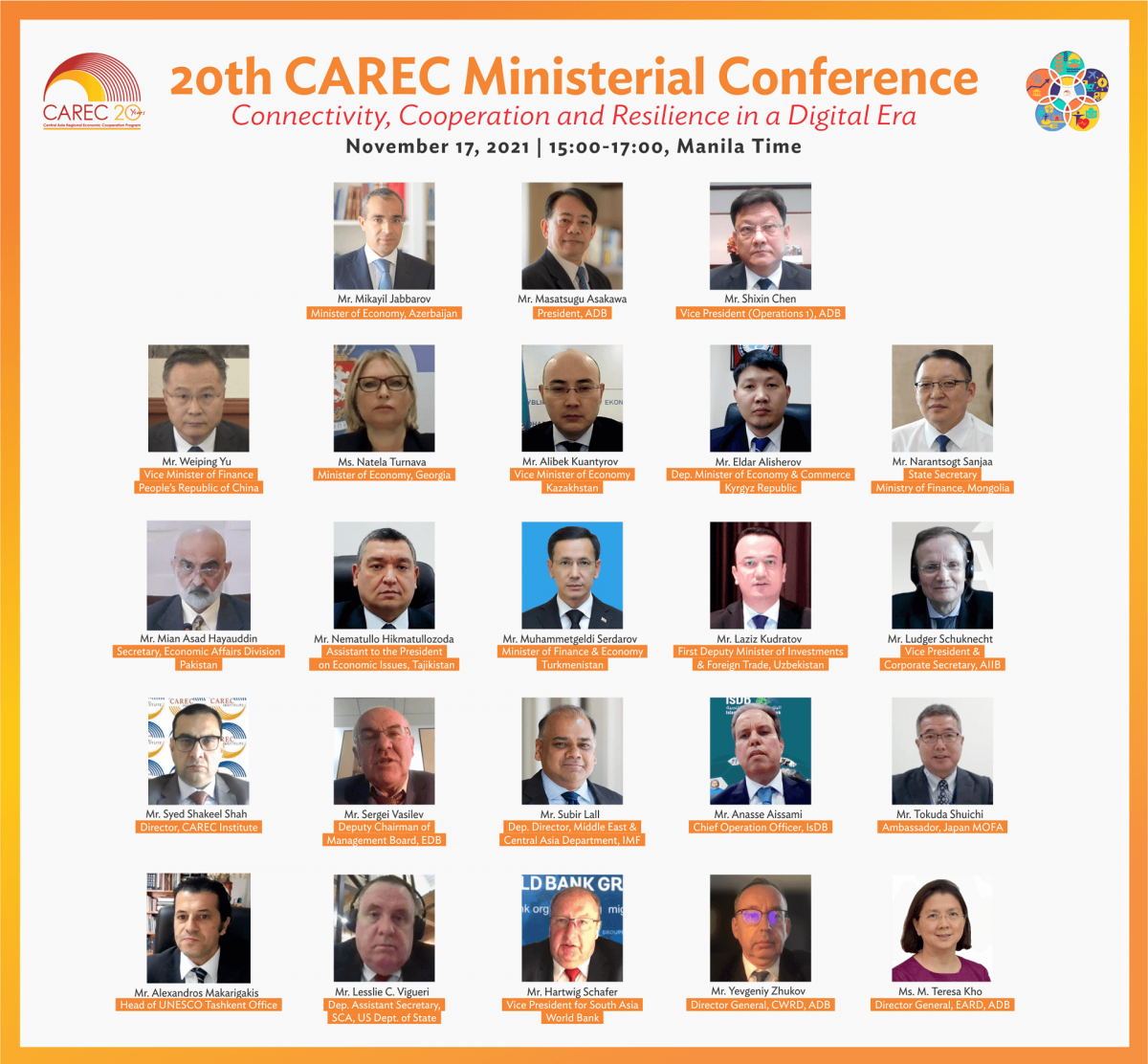 The 20th CAREC Ministerial Conference was held virtually on 17th November 2021. It was hosted by the government of Azerbaijan and co-chaired by Minister of Economy, Azerbaijan Mikayil Jabbarov, and ADB Vice-President Shixin Chen. Speaking on the occasion, Mr. Jabbarov highlighted the potential of digitization and its resulting economic dividends to enhance regional cooperation. He stated that the CAREC Digital Strategy-2030 would help to build on the initiatives undertaken by the leadership of Azerbaijan.
President Masa in his keynote address affirmed ADB's support to CAREC member countries as they recover from the impact of the COVID-19 pandemic. He emphasized the need for strengthening regional cooperation to build the resilience of populations to similar challenges in the future.
Ministers noted the progress achieved by the CAREC program across its priority areas and endorsed the new policy roadmaps for promoting digitization and health security in the region.
NEWS RELEASE: Health Cooperation and Digitalization Crucial in Recovery, Resilience in CAREC Region — ADB President | РУССКИЙ | 中文
Key Documents
Summary of Proceedings | РУССКИЙ
Joint Ministerial Statement | РУССКИЙ | 议程
Special Address by H.E. Mr. Ilham Aliyev, President of the Republic of Azerbaijan
Keynote Address by ADB President Masatsugu Asakawa
CAREC Health Strategy 2030 (Draft for endorsement) | РУССКИЙ | 议程
CAREC Digital Strategy 2030 (Draft for endorsement) | РУССКИЙ | 议程
CAREC 2030 Development Effectiveness Report (Draft) | РУССКИЙ | 议程
CAREC Implementation Progress Report | РУССКИЙ | 议程
Developing the Water Pillar Scoping Report | РУССКИЙ
CAREC Regional Infrastructure Concept Progress Report | РУССКИЙ | 议程
Partner Statements
Statement by Asian Infrastructure Investment Bank | РУССКИЙ
Statement by CAREC Institute | РУССКИЙ
Statement by Eurasian Development Bank | РУССКИЙ
Statement by Eurasian Fund for Stabilization and Development  | РУССКИЙ
Statement by Islamic Development Bank | РУССКИЙ
Statement by Ministry of Foreign Affairs, Japan  | РУССКИЙ
Statement by US Department of State | РУССКИЙ
Statement by World Bank | РУССКИЙ
Presentations
IMF CAREC Regional Economic Outlook – Presentation | РУССКИЙ | 议程
Videos