18th CAREC Ministerial Conference
The theme for this year's ministerial conference is "A new CAREC—Expanding Horizons of Regional Cooperation."
Highlights of this year's meeting include:
(i) a roundtable in discussion on the new CAREC Transport and Energy strategies and CAREC 2030 implementation and
(ii) a high-level public–private dialogue on promoting sustainable tourism development in the CAREC region through public–private partnerships.
In his special address, Asian Development Bank (ADB) President Takehiko Nakao reaffirmed ADB's commitment to the CAREC Program. President Nakao highlighted ADB's support in 2019 to regional projects in the CAREC region to promote horticultural trade and improve connectivity and border services. He noted the successful introduction of a series of events under CAREC to facilitate high-level macroeconomic policy dialogue among member countries.
Adviser to the President of the Republic of Uzbekistan Ravshan Gulyamov opened the conference and delivered a special message from the President of Uzbekistan. Deputy Prime Minister of Uzbekistan and ADB Governor Elyor Ganiev delivered a keynote address. Uzbekistan Minister of Investments and Foreign Trade Sardor Umurzakov and ADB Vice-President Shixin Chen chaired the conference.
President Nakao also held a bilateral meeting with Minister of Economic Affairs Division of Pakistan Muhammad Hammad Azhar and discussed the country's macroeconomic situation and future ADB support.
Ministers and senior officials from 11 CAREC member countries and high-level representatives from development partners attended the conference, which endorsed the CAREC Transport Strategy 2030 and CAREC Energy Strategy 2030.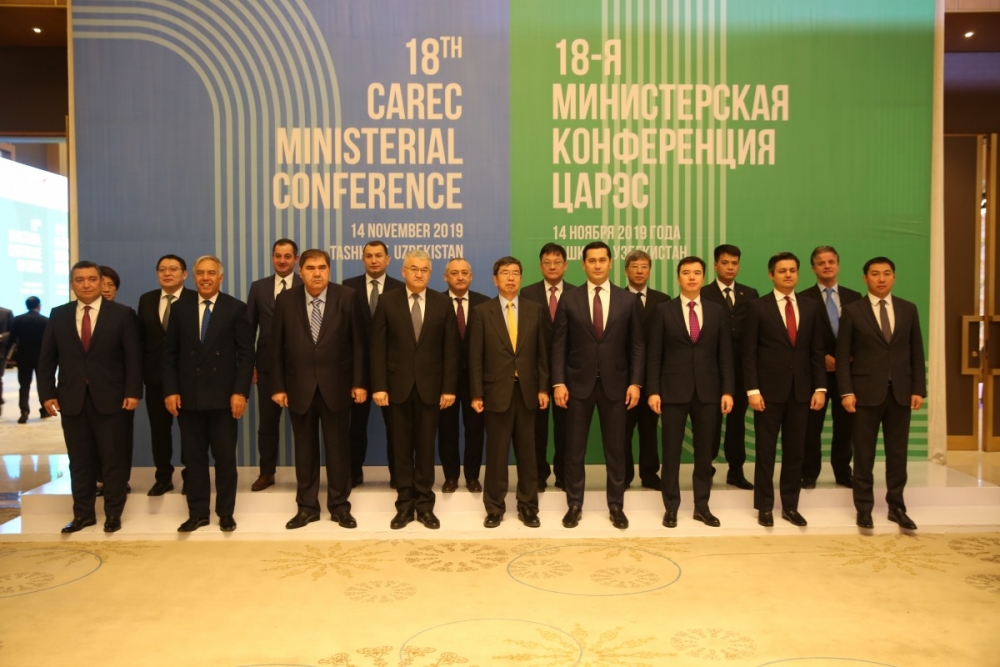 Key Documents
Special Address by ADB President Takehiko Nakao
Joint Ministerial Statement | РУССКИЙ
Report of the Senior Officials' Meetings to the CAREC Ministers | РУССКИЙ
High–Level Public–Private Dialogue: Promoting Sustainable Tourism Development in the CAREC Region through Public–Private Partnerships | РУССКИЙ
Presentation Materials
CAREC 2030 Implementation Progress | РУССКИЙ
CAREC Transport Strategy 2030 | РУССКИЙ
CAREC Economic Outlook–Growth and Stability Amidst Uncertainty | РУССКИЙ
Smart Borders–Seamless Trade, Travel, and Transport in CAREC | РУССКИЙ
News Releases
ADB President confirms support for expanded agenda of Central Asia Regional Economic Cooperation at 18th Ministerial Conference
New regional energy strategy maps path to secure energy future for CAREC region