CAREC Innovation Decoded – The People's Republic of China Episode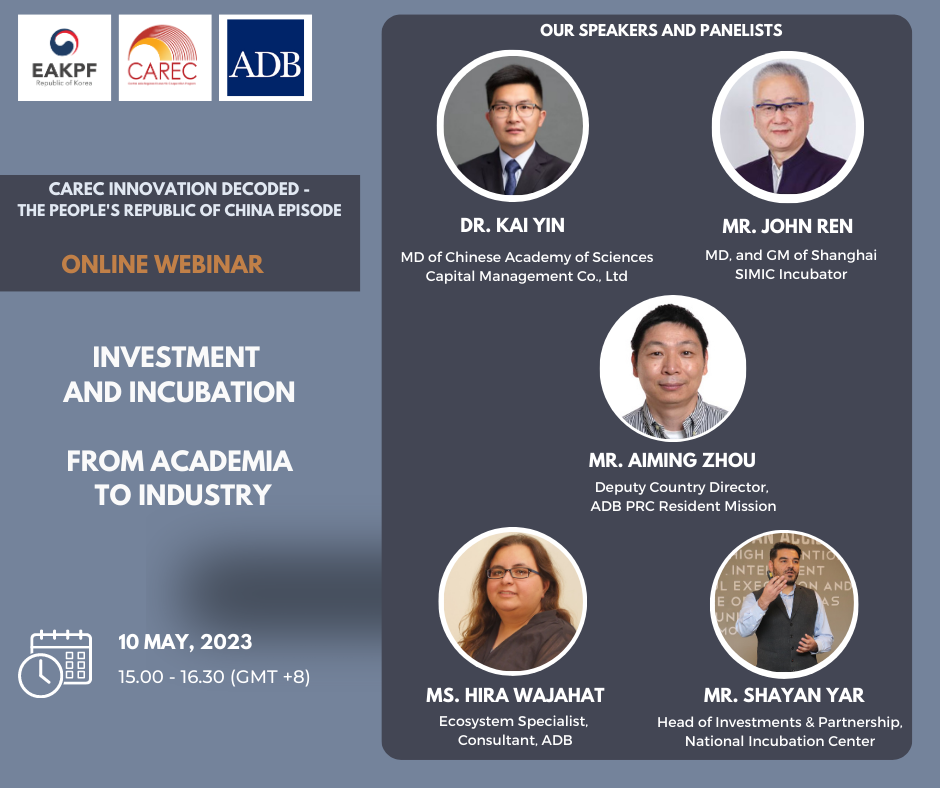 10 May, 2023, CAREC Program has launched a new initiative, "Innovation Decoded," to provide South-South learning and networking opportunities for the startup ecosystem players in the CAREC region. The first episode focuses on PRC's startup ecosystem and features a series of online sessions that aim to provide in-depth insights into the development of the startup ecosystem and digital economy of China. Participants from CAREC member countries will not only gain valuable knowledge & opportunity to network but also receive guidance on policy design & implementation. Aiming Zhou, Deputy Country Director, People's Republic of China Resident Mission opened the event on behalf of ADB.
The inaugural session titled "Investment and Incubation from Academia to Industry", featured presentations by Dr. Kai YIN (Managing Director of the Chinese Academy of Sciences Capital Management Co., Ltd.) and Mr. John REN (Managing Director of Shanghai Institute of Microsystem and Information Technology of Chinese Academy of Sciences (SIMIC) Incubator). The session highlighted how the Chinese Academy of Sciences successfully leverages its capital and resources to create high-tech startups.  SIMIC incubator shared its experience in exploring opportunities and challenges faced in international cooperation and development. The event also included a panel discussion on "How to Build a Dynamic and Collaborative Startup Ecosystem Community through the CAREC Program".
"CAREC Innovation Decoded" is part of the CAREC Innovation Network (CIN) activities. CIN is proposed as a cooperation and learning platform for the CAREC startup ecosystem to tackle the challenges by sharing information, resources, and network. Capacity-building workshops and networking events are being organized to develop the regional startup ecosystem through collaboration as part of the implementation of CAREC Digital Strategy 2030.
Key Documents
Presentations
Establishing Fund Ecology (EN & CN)
Session Recording