Virtual Training on Plant Quarantine Legislation, Phytosanitary Risk Management and Plant Clinics: Uzbekistan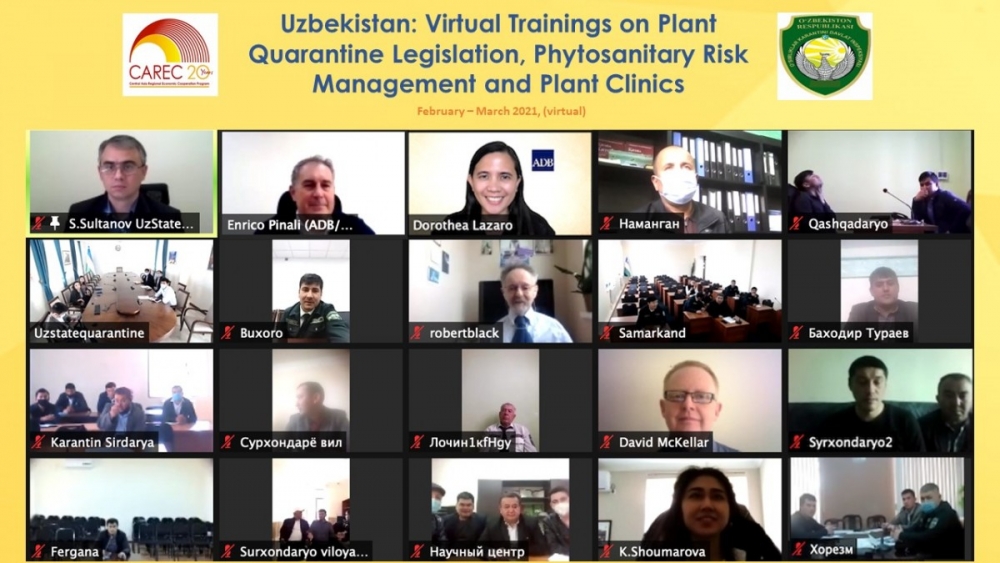 In the photo: Sultanmahmud Sultanov, Head of Department of International Relations, State Plant Quarantine Inspection under the Cabinet of Ministers and Enrico Pinali, Deputy Country Director, ADB's Resident Mission in Uzbekistan joined the participants at the closing session. Uzbekistan SPQI's legal advisors, specialists, and inspectors from regional inspectorates and Scientific Center participated in the trainings.
Following Uzbekistan's accession to the International Plant Protection Convention (IPPC) in January 2020, the State Plant Quarantine Inspection (SPQI) under the Cabinet of Ministers has been mandated to introduce initiatives to adopt IPPC principles under the framework of the Presidential Decree on Additional Measures to Develop the Activities of the State Plant Quarantine Service and Roadmap 2020- 2023. SPQI has also adopted the ePhyto system for digital phytosanitary certification.
Between February to March 2021, ADB conducted a series of plant health trainings for Uzbekistan. Over 400 specialists from 13 regional inspectorates of State Plant Quarantine Inspection participated. Enrico Pinali from Uzbekistan Resident Mission of ADB reiterated ADB's support to Uzbekistan in modernizing phytosanitary measures, developing horticulture value chains, and facilitating trade. Implemented under the CAREC Integrated Trade Agenda 2030, the trainings will help Uzbekistan implement its commitment and alignment with international standards.
The activity was supported by KSTA 9500-REG: Modernizing Sanitary and Phytosanitary Measures to Facilitate Trade, co-funded by the People's Republic of China Poverty Reduction and Regional Cooperation Fund and Regional Cooperation and Integration Fund.
Key Documents
Pest Risk Management Session 1 (EN – UZB)
Pest Risk Management Session 2 (EN – UZB)
Pest Risk Management Session 3 (EN – UZB)
Plant Clinics Session 1 (EN – UZB)
Plant Clinics Session 2 (EN – UZB)