CAREC University Startup Generator Silicon Valley Innovation: Separating Breakthroughs from the Hype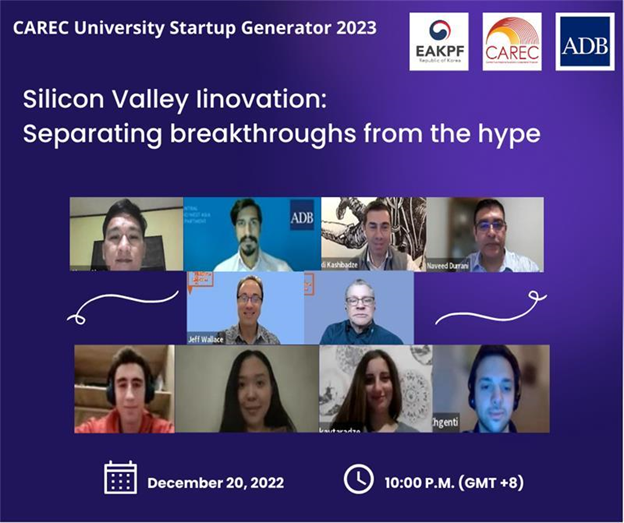 Training for students interested in the creation of innovative startup
20th December 2022 | 22:00 – 23:25 (GMT+8)
On 20th December 2022, the CAREC Secretariat organized a pre-competition workshop session "Silicon Valley Innovation – Separating Breakthroughs from the Hype" for the CAREC member countries' university students participating in the #CARECStartupChallenge. The two-hour-long session featured leading startup experts from Silicon Valley, Jeff Wallace and Kal Deutsch who reviewed the latest Gartner Hype Curve that helps to understand and evaluate the latest tech innovations, such as AI and Crypto. The audience walked away understanding the latest technological trends and got equipped with a framework to evaluate with a critical eye and distinguish between hype and real innovation breakthroughs.
The CAREC University Startup Generator 2023 is a competitive innovation challenge for full-time university students in the Central Asia Regional Economic Cooperation (CAREC) region to develop practical, entrepreneurial, and soft skills by tackling real-world social and corporate problems. This initiative intends to support the development of talent within the innovation ecosystem and foster innovative approaches to addressing local challenges.
The CAREC University Startup Generator Challenge initiative is being implemented as part of CAREC Digital Strategy 2030 which aims to promote innovations among university startup ecosystems in the CAREC region.
Key Documents